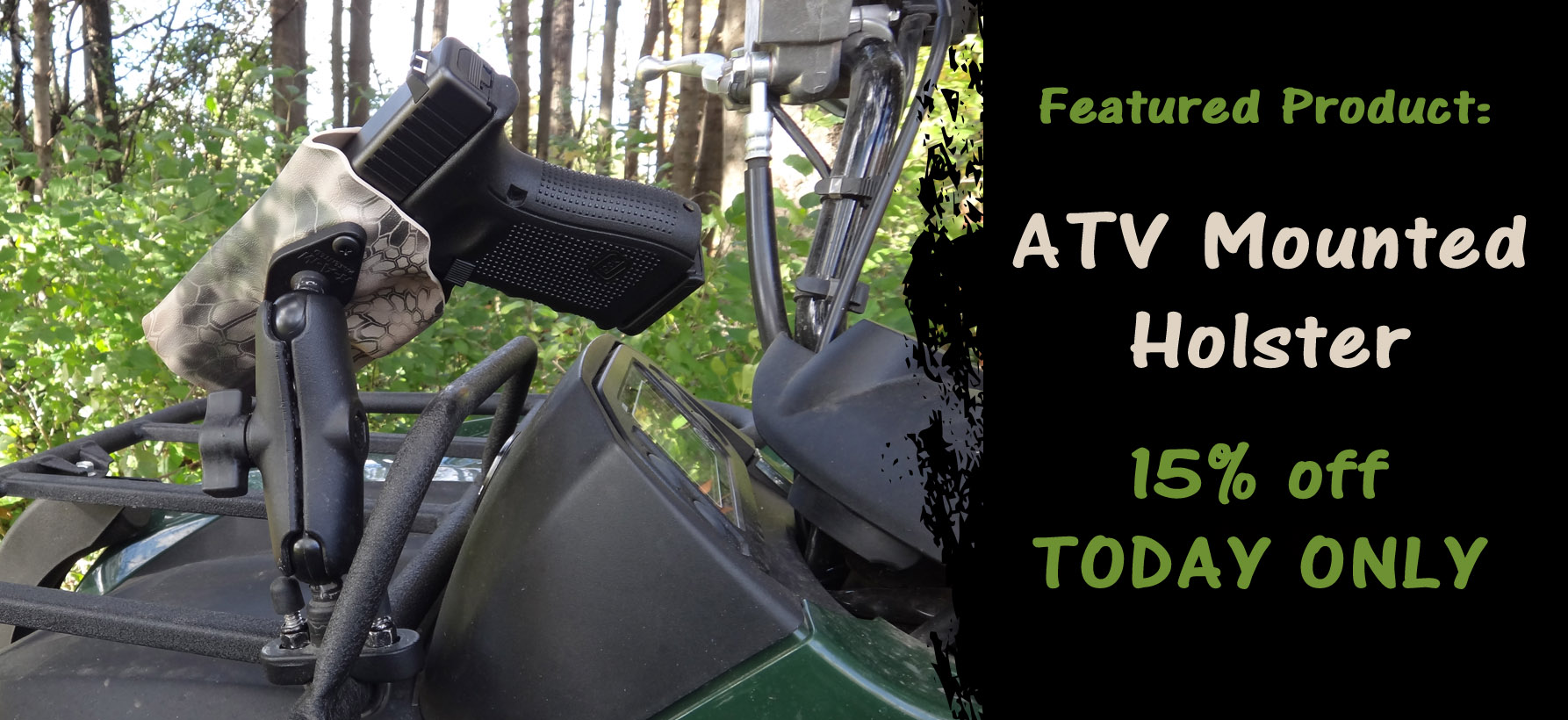 Mount your handgun onto an ATV or anything with bars, or choose the flat mounting base to mount in a vehicle.
This holster is ambidextrous, just switch the side that the RAM Mount base is mounted to.
The RAM Mount is designed with a 1" diameter patented rubber ball and socket system that has adjustment points at both ends of the double socket arm; this allowing for almost infinite adjustment and perfect viewing angles. The hole pattern found on the diamond base adapter will connect to most RAM cradles. The included RAM's patented design dampens shock and vibration, helping to extend the life of your device.
Choose to purchase the holster only, or purchase with the RAM Mount. We have two RAM Mounts available to purchase with this holster:
RAM Handlebar/Rail Mount - The RAM-B-149 consists of a stainless steel, rust proof u-bolt base that fits rails from 0.5" to 1" in diameter, a double socket arm and a diamond adapter base. (Components include RAM-B-231U, RAM-B-201U, RAM-B-238U)
RAM Flat Surface Mount - The RAM-B-138 consists of a 2.5" diameter round base that contains the universal AMPs hole pattern, double socket arm and diamond base adapter. (Components include RAM-B-202U, RAM-B-201U, RAM-B-238U)
The ATV/Vehicle Mounted Holster is available for handguns with or without a light.
The ATV/Vehicle Mounted Holster is 15% off today only (10/9/14) Ended
(discount will be taken in cart)
Today's giveaway is for an Ebony Zippo Lighter custom engraved with our Grizzly Outdoors logo.
Make sure to enter the other giveaways we have going on as well. Each of the giveaways will be open through 11:59pm on Sunday.
Giveaway #1 - One Ultimate Grizzly Special Sheath (a $250 value)
Giveaway #2 - a $50 Grizzly Outdoors gift certificate
Giveaway #3 - A Lansky Tactical Diamond/Carbide Sharpening Rod
Giveaway #4 - An Ebony Zippo Lighter
Giveaway #5 - A Firesteel Rod and Attachment
Unfortunately, due to shipping costs, today's giveaway is only available to those in the USA.
a Rafflecopter giveaway